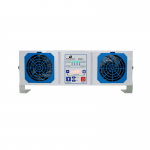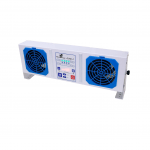 Horizontal High Frequency Air Ionizer
ELHAI-1 (Horizontal High Frequency DC Ionizing Fans)
This Ionizer features front facing LED lighting for illumination
Scroll below for a detailed description.
Enquire Now
Description
Automatic ionic equilibrium system and ionic equilibrium can reach within 0±10V.
Special tungsten alloy spray point which is not easy to wear for long time use.
Have double fans working separately, stronger wind force, faster and wider electricity removal.
Spray point components and front air window may be flexibly removed, so spray point maintenance and cleaning is more convenient.
Have normal operation indicator for anti-static and abnormal operation indictor for anti-static
Shell metal plate has double side zinc coating by electrostatic spray.